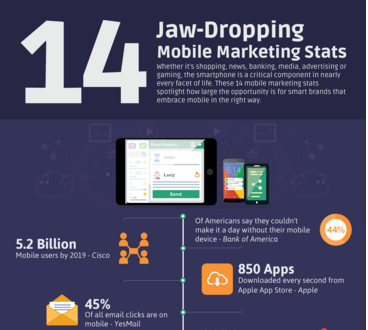 From Kahuna Mobile Marketing Index's stat report, it is apparent that mobile marketing has automated and ensures that company's marketing campaign runs smoothly and enable the businessmen to seamlessly focus on other aspects of the business.
This view becomes much more clear with the following research report.
If asked to refrain from Smartphone use, nearly half (44 percent) of Americans say they couldn't last 24 hours.
By 2019, mobile users will reach by 5.2 billion users reports Cisco.
Apple's statistics shows that 850 apps downloaded every second from the apple app store.
45% of email opens occurred on mobile says Yesmail.
Neilson has also asserted that Smartphone users access 26.7% apps per month.
App installs has grown to 345% year over year which is claimed by Kenshoo.
Refuel Agency's report says that millennial teen spend 6.3 hours in a day on app.
50 percent of millenials use their mobile phone to help them while shopping, source-Forbes
Flurry analytics shows thatpeople are mobile addicts who launch apps 60 times a day or more.
An insight from Comscore is that U.S adults aged between 18 and 24 spend 91 hours a month in app.
Adobe's latest Digital Index shows that apps achieve half of their lifetime usage in the first 6 months.
NY times reported that 20% of all money paid to Starbucks in the U.S came through mobile.
Some of the key takeaways in the Kahuna Mobile Marketing Index are that average opt-in rate for push messages across Android is 86% and iOS is 51%. Also average retention rate for users who opted in to push notifications are more than twice as high than rates for users who have not opted in.