Smartphones and tablets can no longer be ignored by email marketers. They represent a massive part all email interactions and revenue. But just how massive? Here are marketingprofs with an answer.
The 58% of email opens occurred on mobile phones or tablets with 45% and 13% respectively for all industries except business products and services, a 14% increase from a year earlier.
Although desktop computers accounted for only 42% of email opens, they were responsible for 49% of email-generated revenue.
According to the marketingprof stat report,
Year over year, in all the industry, mobile phone are used to open mail accounts for 15%, business products and services accounts for 20%, Consumer products and services accounts for 12.9%.
Year over year, media and entertainment dominates in open mail  through mobile rates by 48.4% and click rate by 61.8%.
This trend is upside down for business products and services for opening mail by -26.7% and click rates by 68.4%.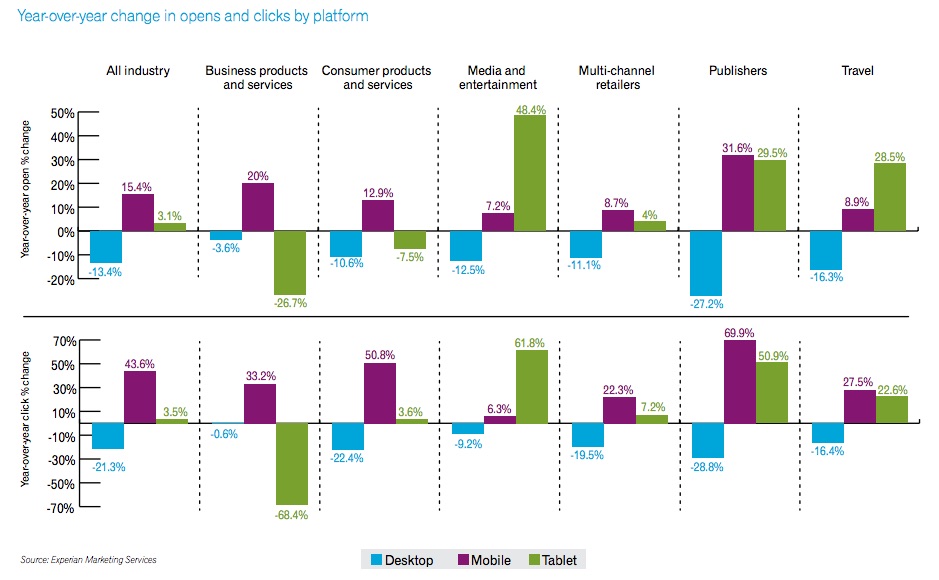 On observing the email clicks and open by platform (Q2 2016), multi – channel retail industry scores among all by 50% and click rates by 49%.