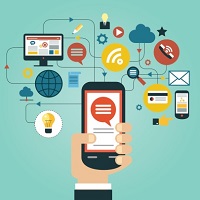 In this infographic with Adweeks, we've brought together all the most important changes in a single infographic to highlight the areas needing attention how smart phones are being used in the United States.
Smart phones that run on the Android Operating System are the most popular on the market, with the company holding over 60 percent of the market share in 2016. As of now, Android devices sold more than Windows, iOS, and Mac OS combined. This upward trend contributes, around 207.2 million U.S. smartphone users at present. Which means,  Android device users will, equivalent to almost a quarter of the overall population in the United States.
When it comes to Smartphone usage, it accounts to 24% on web and 76% on app by the user.
On the market reach of the most popular iOS shopping apps in the United States as of June 2016. During the measured period, it was found that retail mobile sales have reached to 123 billion dollars in 2016.It contributes to 32% of the ecommerce sale.
Out of the total population, 43% of users uses app on weekly basis, 45% shopping are made via app and 25% app installed were never used.
Physical store locations served as webrooms and showrooms for shoppers who ultimately made apparel purchases via a mobile device and online. Whether these shoppers wanted to try on clothes or shoes to gauge the fit, touch the materials or zoom in for a closer look. And of these shoppers, 29% shopped around via online and 45% shopped around at a physical location.
It states that 26% installed apps are used daily, 25% apps are installed only once 19% of these apps are retail related. On an average, 36 apps are installed by a person.
33% of users lose interest of using app, which can be incentivised to prompt renew app usage. It is found that 30% of the users are attracted through discount offered.
When compared to the amount spend on ad at app over web, 29.3 bn dollars are invested by advertisers, which clearly indicates that there is a huge shift in the advertising market.
So, the state of mobile marketing in US proves that users are more active and instrumental than ever before.