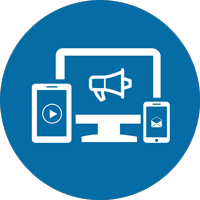 Since it began in the mid-1990s, internet advertising (both desktop and mobile) has principally risen at the expense of print, according to mxmindia. Over the last ten years internet advertising has risen from 6% of total global spend in 2005 to 29% in 2015. Meanwhile newspapers' share of global spend has fallen from 29% to 13%, while magazines' has fallen from 13% to 7%. Print titles will continue to lose market share as their readership continues to decline, either move to online versions of print brands or other forms of information and entertainment entirely. Mxmindia has predicted that newspapers and magazines will continue to shrink, at average rates of 4% and 3% a year respectively, between 2015 and 2018, ending with respective 10% and 5% market shares.
Their figures for newspapers and magazines include only advertising in printed editions of these publications, not on their websites, or in tablet editions or mobile apps, all of which are picked up in their internet category. The performance of print editions does not wholly describe the overall performance of newspaper and magazine publishers.
Television is currently the dominant advertising medium, expected to attract 38% of total spend in 2015. As mentioned earlier, however, mxmindia's stat, now expect the internet to overtake television to become the largest medium in 2018. Looking at the ad market as a whole, including search and classified, they think television's share peaked at 39.7% in 2012, estimate it at 37.7% in 2015, and expect it to fall back to 34.8% by 2018.
However, one of the reasons for television's loss of share is the rapid growth of paid search, which is essentially a direct response channel (together with classified), while television is the pre-eminent brand awareness channel. Television does not compete directly against search, and indeed the two can complement each other, for example by running paid search activity take advantage of the increase in searches driven by a television campaign. Taking internet classified and search out of the picture, television will remain the principal display medium for many years to come. They estimate television will account for 44.7% of display expenditure in 2015, and 42.9% in 2018.
If mxmindia considers audiovisual advertising as a whole – television plus online video – they see that it is in fact gaining share of display advertising. Television offers unparalleled capacity to build reach, while online video offers pinpoint targeting and the potential for personalisation of marketing messages. Both are powerful tools for establishing brand awareness and associations. They estimate that audiovisual advertising will account for a record 48.4% of display advertising in 2015, up from 44.1% in 2010, and expect its share to reach 48.9% in 2018.