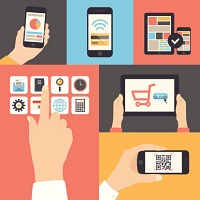 Consumers are turning mobile savvy, and in turn, app centric. Most online activity happens on mobiles through apps and yet 80% of the apps in this competitive world struggle to get even 1000 downloads.
In the current scenario where every business has an app of its own, creating an app is just not enough anymore, nor is it enough to calculate the success of your app via the number of installs. Consumers today are faced with more and more choice and turning more demanding, which means they may uninstall an app as quickly as they download it unless it adds some value through enhanced user experience in comparison to other similar apps.
Successful apps are user centric and keep users engaged continuously, luring them to come back again and again. Here are top 5 tips to maximize user engagement and ensure the success of your app:
First impressions matter – What customers see when they see your app for the first time can actually have them hooked or turn away forever. Engaging customers at the go is very important to help them explore further. In this age of instant gratification, users don't want to waste time exploring. So make sure your preview/landing page tells them what to do, how to do and where to find help. Adding a personalized welcome message is even better.
Push messages – We don't mean annoying push messages at odd hours irking the users. What we are suggesting here are smart push messages to increase conversion. For example, you have an e-commerce app and a customer checked out few items but logged out without purchasing. Why not send them a small reminder to complete the purchase? Or if they liked an item but never bought it and now you have it on a discounted price, sending a push message notifying the customer may have them buying soon.
Ease of access – Having an app that requires users to do a lot is not a good idea at all. People want things fast with least fuss and users dig apps that are easy to use and make decisions on their behalf. Adding filters to narrow down searches, showing product suggestions based on previous searches, faster checkouts, not forcing users to make lengthy profiles are all examples that save time and add value not only for users but also to your business.
 Personalized user communication – No one wants to be flooded with spam emails and content they don't care about. Today, users only want tailored content; otherwise they will simply make a run for the 'uninstall' button. It is pertinent to understand your customers, create segments on basis of age, choice, behavior or whatever works for your product and strategize what message you'd like to share with each segment, how and when.
Reward the users – Reward loyal users for being loyal and new users to get hooked. Reward them for spending time on the app, for sharing the content on social media or for referrals. Let users redeem these points for gift coupons or other prizes to keep them engaged. When users are rewarded, they feel valued and encouraged to spend more time on the app.
Boosting user engagement is critical to an app's success. App developers and owners will have to keep in mind the changing app landscape that is becoming more user-centric with each passing day. Keep these top 5 tips in mind to ensure high engagement levels and keep watching this space for more.