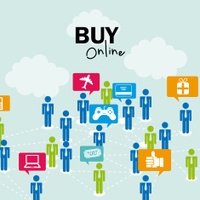 These trends will shape the ecommerce industry this year
Ecommerce business is on the rise, as online shopping is predicted to increase by 45% in 2016 in the U.S. To stay ahead of the game or to grow your online business, you need to benchmark against the latest growth rates, both for overall business in a category for specific devices and then implement marketing strategies and tactics that work to achieve business goals.
We thought aqusagtechnologies's infographic was a nice summary list of the top trends that will enable any e-Commerce business to grow in 2016 and beyond. Beacons, big data & predictive analysis, advanced personalization, omnichannel tactics, localization, digital tech taking over the brick and mortar stores, and an increased focus on customer experience are some of the most important trends to watch in 2016. Here we go with the stats.
U.S. Online Shoppers will spend $327 billion in 2016, up 45% from $226 billion in 2015.
By the end of 2015 the mobile share of global e-Commerce transaction was over 40%, according to Criteo and is expected to grow to 70% by 2017.
By 2017, U.S. customers' mobile engagement behavior will drive mobile commerce revenue in the U.S. to 50% of U.S. digital commerce revenue."
Retailers will have 3.5 billion active beacons installed by the end of 2018.
Beacons will drive $44 billion in retail sales by 2016, up from $4 billion this year.
Retailers to invest $2.5 Billion in IoT (Internet of Things) within 5 years – mostly in Beacons and RFID tags.
71% retailers are able to track and understand customers' buying patterns using beacons.
82% customers make purchase decisions in-aisle.
60% is the average increase in business margins and a 1% improvement in labor productivity for retailers who started using Big Data.
73% higher sales for companies using Predictive Analytics than those who have never done it.
A user-centric, optimized experience is becoming not just a priority, but a competitive advantage.
89% of executives believe that customer experience will be their primary mode of competition by the end of 2016.
According to Google, 85% of online shoppers start a purchase on one device and finish on another.
Multi-channel shoppers shop more often and will spend over 3 times more than your single-channel-shoppers.
Location-targeted mobile ad revenues are expected to grow from $4.3 billion in 2014 to a staggering $18.2 billion in 2019.
Biometrics Research Group predicts the global biometrics market to soar to $15 billion this year, up from an estimated $7 just three years ago.
Technology consulting firm Frost & Sullivan forecast that nearly a 0.5 billion people will be using a smartphone equipped with biometric technology by 2017.
Big brands are using "magic" or "memory" mirror technologies led by RFID tags to let customers try on virtual outfits and place iPads in fitting rooms allow customers to ask for help, read reviews and see what sizes are in stock.
Increased adoption of e-Commerce platforms that support all touch points: digital, traditional retail, enterprise technology.
In 2016, expect to see common user interface design patterns even more frequently as they reduce friction and increase conversions.
In 2016, more sites begin to use dynamic views that rely on JavaScript and Ajax, so the products displayed on the page change dynamically (eg: uae.jadopado.com).
High demand for consumer psychology, digital analytics, statistics, and UX / CX / IxD specialists.
Integrating loyalty and rewards with mobile payments works like magic.
Payment will increasingly become focused on mobile payment methods, as mobile traffic pushes past the 50% mark and the technical capabilities improve (e.g. Starbucks).
2016 will bring same-day delivery as the new norm as the Amazon Prime Now lunched in the U.K.
Also, Amazon might have 80 million members worldwide for its Amazon Prime subscription service which offers faster delivery among other perks and promotions.