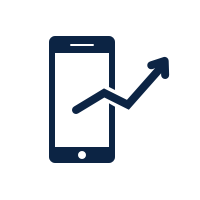 With a projected 3+ billion smartphones in use by the end of 2017, mobile is quickly becoming consumers' primary touch point for connecting online. Traditionally, businesses have implemented web analytics to track and understand their internet users.
However, mobile customers have many more unique features and associated opportunities when compared to their PC counterparts. If companies continue to use web analytics to measure and understand their mobile customers they will be missing pertinent information that they need to develop personalized and profitable relationships with their mobile users. This infographic medio by illustrates the unique features of mobile customers and outlines why mobile analytics are better equipped to handle the shift to mobile.
– Meet Hank, 21st century mobile user. Hank owns a laptop, an Android smartphone and an iPad. Hank is part of 29% of Americans who own a tablet.
– Tracking users across touchpoints. Tracking and identifying users across multiple touchpoints is challenging but necessary for understanding the mobile user. With sophisticated mobile analytics you can effectively identify
users across channels and devices.
– The average American owens 1.57 mobile devices.
– Percentage of global Internet traffic from mobile devices: 1) 2009 – 1%; 2) 2010 – 2.4%; 3) 2011 – 6%; 4) 2012 – 10%; 5) 2013 – 15%; 6) 2014 – 30%.
– Hank uses all three of his devices from a variety locations during all times of the day.
– He often purchases different items from different devices.
– User content. Web analytics platforms lack the sophistication to effectively track mobile users and their movements. Only mobile analytics can provide the detailed insights you need to understand mobile user behaviors, engagement and purchases across different devices and locations.
– Percentage of mobile commerce as proportion of total e-commerce: 1) 2011 – 7%; 2) 2013 – 17.4%; 3) 2017 – 25%.
– Average order value: 1) Tablet – $123; 2) PC – $102; 3) Mobile – $80.
– Time spent accessing travel information: 1) Apps – 96%; 2) Mobile web- 5%.
– 15% of apps are launched while offline.
– App usage. Web analytics can't track detailed user actions in apps or capture any offline usage metrics. Mobile analytics can capture all offline actions with a more holistic and granular understanding of in-app usage and behaviors.