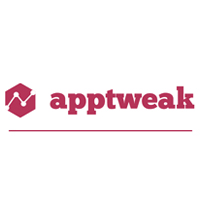 Laurie is Inbound Marketing Manager at AppTweak (App Store Optimization (ASO) Tool driven by Data Science) where she started working back in 2014 when the company was just starting. Passionate about new technologies and apps, Laurie loves finding new ways to share her +4 years experience knowledge in App Store Optimization and App Marketing.
Can you give us a detailed explanation of AppTweak? 
AppTweak is a pioneer ASO tool driven by Data Science empowering app developers and marketers to improve their app store visibility ad increase organic downloads on the Apple App Store and the Google Play Store. Launched in 2014, AppTweak is the easiest and most effective tool to grow app businesses of all sizes.
App Store Optimization is an overwhelming process. Our mission at AppTweak is to provide our users with a reliable dashboard, offering all the data needed to optimize app keywords, increase organic downloads and measure app performance.
AppTweak offers ASO personalized and recommended actions; allows competition analysis and benchmarks; provides keyword research, tracking tools and performance indicators; plus all the features needed to take your app to the next level!
Additionally, our tool comes with a suite of Search Ads Intelligence features, enabling to optimize effectively paid campaigns by tracking any app's Share of Voice (SOV) and get the list of apps bidding for any given keyword.
Today, AppTweak manages over 1000 accounts in more than 70 countries, including major mobile leaders such as: Viber, LinkedIn, PayPal, Social Point, Udemy, Etsy, Microsoft, Amazon, Mozilla, Deezer and more.
Headquartered in Brussels (Belgium), AppTweak has recently opened an office in San Francisco, to increase our presence in the US and strengthen our customer's relationships.
Our team of 16 (and growing!) dynamic and passionate employees strive every day to make your experience on AppTweak the smoothest possible.  
AppTweak is the ASO tool that you can trust, build by people for people.
How Search Ads Intelligence will influence our both Organic and Paid Keywords?
Search Ads campaigns represent an effective channel to drive more app downloads. If well-executed, Search Ads can bring successful results and a positive ROI.
We have conducted several experiments on the store and found out that Search Ads can influence organic keyword rankings, which can bring an additional boost to the app's visibility.
We observed that when an app is displayed as an ad on a given keyword, and if this same app is already ranking organically for that same keyword, its organic ranking on that keyword is promoted by Apple to the 8th position (if the initial rank was below 8th) when the ad is displayed. However, if the app didn't show any organic rank for that keyword, it will remain unranked and solely the ad will be displayed. Finally, if the app's organic ranking on that keyword was higher than the 8th position, nothing changes, and the organic ranking remains the same. This can be seen as a second chance from Apple to boost an app's visibility while it appears as an ad.
This behavior from the algorithm is very interesting to consider while choosing Search Ads keywords, as selecting keywords with lower organic ranks can boost their organic visibility at the same time.
How do you think that Paid User Acquisition is having its impact on ASO?
As described above, paid UA can definitely impact ASO in a direct way, as the organic keyword rankings are boosted during an ad.
Additionally, the paid acquisition also affects ASO indirectly. Indeed, if done well, Search Ads and paid acquisition can increase drastically the number of apps users. This will, therefore, increase the app's power on the store and give it more weight.
The more downloads, the more app power; the more app power, the more weight on the algorithm. The more weight on the algorithm, the easier it is to rank high for keywords organically.
Also, the better the conversion on Search Ads, the bigger boost will be given to organic keyword rankings.
Will there be any major trend that we will be seeing in ASO in 2019?
ASO in 2019 will continue performing algorithms tests and updates in order to provide users with a better general experience, allocating even more importance on keyword conversion and relevance.
It looks like Apple keeps pushing the App Store towards additional editorial choices and richer content. Visuals (app preview; screenshots, etc.) will continue growing in importance given their great impact on conversion.
Overall, ASO in 2019 will remain as essential, challenging and effective as it was in 2018. It is important to remember that ASO is an on-going process, demanding cautious and regular iterations, based on accurate data and frequent performance analysis.
At AppTweak, we're more than happy to help you tackle 2019 with a solid ASO strategy!
Any Tricks or Tips to rank top in a quick span of time?
That's a tricky question, as there is no real "quick span of time" in App Store Optimization. As mentioned above, ASO is a continuous process which step-by-step iterations can help grow, especially for newly launched apps.
Otherwise, it is always important to remember the hierarchy behind the various text metadata fields so that the most important keywords are used in the fields with the highest weight; being
For the Apple App Store:
The App title (30 characters)

The App Subtitle (30 characters)

The iTunes Connect Keyword field (100 characters)
And for the Google Play Store:
The App title (50 characters)

The Short Description (80 characters)

The Long Description keyword density (target a 2%-3% density for most important keywords)
Unlike for the Play Store, the Apple App Store does not look at the keyword density to index apps, so it is pointless to repeat the keywords across fields and considered a waste of space. However, one of the customers has made an interesting experiment regarding keyword repetition on the App Store. Learn more about the surprising results right here.