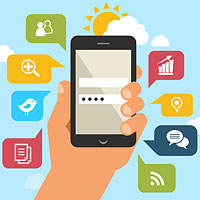 As smartphones take over every aspect of our lives, there is no staying away from the mobile revolution, or well, the app revolution. With most of the world's population owning at least one mobile, and many of these users spending a minimum of 4 hours on their mobiles daily, mobile marketing is a staple for every business that wants to succeed.
So as app developers and mobile marketers gear up to meet the challenges of an ever increasing and demanding user base, here are some top mobile marketing trends for 2016 and some others that simply won't do.
What works?
Location based services – Targeting audience with advertisements based on their location is the latest trend in mobile marketing. Imagine the applications – you are travelling to a new city and an app on your phone sends you a push notification mentioning the best eateries in the area, how likely are you to act upon this advertisement? Very likely, indeed!
Location based advertising is the future of mobile marketing and one that no one can afford to ignore.
Optimizing user experience– Capturing the imagination of users and keeping them hooked is the ultimate aim of mobile marketing, and thus, maximizing user experience is key to any successful mobile marketing strategy. Augmented Reality Based Services are being heavily favored this year enabling the projection of augmented reality for users by using the camera, GPS and other features in a smartphone.
Mobile videos – Mobile based advertising has moved on from irritating screen banners and pop ups to interesting videos that are created as a part of the app experience. Think gaming apps that offer reward points for watching a video. Reward based advertising is a strategy that has gained immense popularity this year.
Internet of Things– Internet of Things is rapidly changing the way users interact with apps. This technology makes it possible to seamlessly integrate services across multiple devices used by the audience. This means that mobile marketing needs to focus on providing seamless experience across devices including data sharing and information so that users can switch between devices without compromising on the experience.
What doesn't work?
Now that we have discussed the importance of mobile marketing and what works, here is a little surprise – ignoring desktop-based internet marketing and offline marketing by simply focusing on mobile marketing will not work! While a sizeable chunk of the population sees you through mobile, looking good on other devices and offline is as important.
Mobile users are becoming more discerning and while they accept ads as an integral part of the app experience, no user wants to be constantly hit with spam or irrelevant advertisements. Do not use your ad space for hundreds of irrelevant ads, as it will significantly bring down the engagement level. Instead, focusing on few quality ads that can be made a part of the app experience will get better response from the audience as well as help app developers monetize their apps effectively.