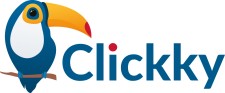 Сlickky, the leading platform for mobile traffic monetization on emerging markets, has recently launched the Clickky CPI Index, which shows the current state of market demand. Based on Clickky advertising campaign data, the Index is a market analysis that shows the demand dynamics for different countries.
The Clickky platform accumulates a huge amount of ad campaign data, which shows market trends and statistics. The visualization of industry dynamics that the Index helps to understand global trends and tendencies.
The April 2016 overview shows accumulated data from Android and  iOS ad campaigns.
In April'16, Clickky released the CPI Index, providing the research of mobile market demand. Clickky's CPI Index accumulates the data for 5 regions, 18+ countries, and different categories, as well as for two different OS. Clickky runs in-depth researches for emerging markets, as they provide advertisers with a growing number of mobile users, and publishers with huge possibilities to monetize mobile traffic. One of these emerging mobile markets is Indonesia, Southern-Eastern Asia.
South-Eastern Asia (SEA) includes Indonesia, Malaysia, the Philippines, Singapore, Thailand, Vietnam, etc. It is now considered to be one of the most forward-looking markets, along with China and India. The estimated internet penetration in the region reaches 44%, while the population is over 640M. Last year, the total smartphone shipments in SEA reached 101.4 M units (+22% YoY). According to InMobi data, in Q2 2015, the total share of SEA countries in the list of TOP 10 countries with the most mobile apps installs amounted to 36%.
Indonesia is the 4th most populous country in the world, with the largest population in SEA region, and with 51.4% Internet penetration. As for the number of mobile shipments, Indonesia holds 29% of SEA market, keeping the largest share in the region. GFK study demonstrates that up to 93% of Indonesian users access the Internet using their smartphones, and spend approximately 5.5 hours per day using mobile devices. Indonesia has been acknowledged as the world's leader in Mobile app downloads,  their number reaching up to18% in 2015.
Indonesia CPI Index shows the state of market demand in Q2-Q3 2016: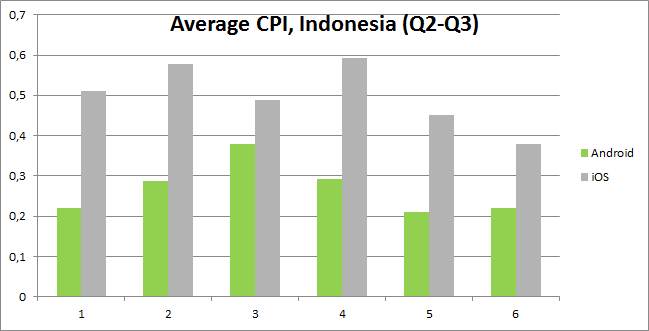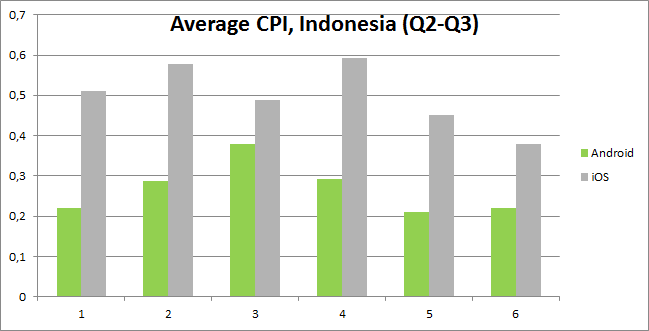 As shown above, June became the most cost-effective month for advertisers to promote their Android apps. On the contrary, the budgets for iOS app promotion in June were slightly lower than in May and July. All in all, Android CPI is expectedly lower than the one for iOS.
Indonesian average CPI in 2014 and 2015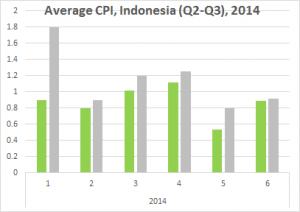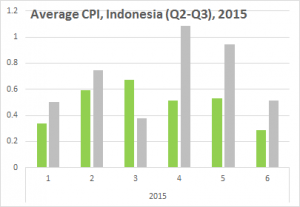 The average payout in 2016 was two times lower than that in 2015, while the overall tendency shows that advertisers have been spending less per user in Indonesia since 2014. There is also an observable pattern for iOS in 2015 and 2016 over the Q2-Q3 period: iOS CPI in Q2 reached its peak in May, the highest indicator was spotted in July, and the cost per install over Q3 dropped down. As for Android CPI, the Q2 2016 data duplicates the Q2 data in 2015, with a clear growth tendency.
Indonesian Android CPI in April-September


Analyzing the chart above, it becomes clear that June demonstrated the highest CPI payouts. Travel & Local categories in April-June showed extremely high growth rate up to 297%, but by September the CPI has decreased.
In April-September'16, the Entertainment, Music & Audio, Tools, Transportation, and Travel & Local categories demonstrated a positive growth rate over these 6 months, while the growth rate in Q3 became mostly negative.
Communication, Lifestyle, and Social CPI metrics decreased over the 6 months and throughout Q3.
All in all, summer is the best time to promote Shopping, Transportation, and Travel & Local apps in Indonesia.
Indonesian iOS CPI for April-September 2016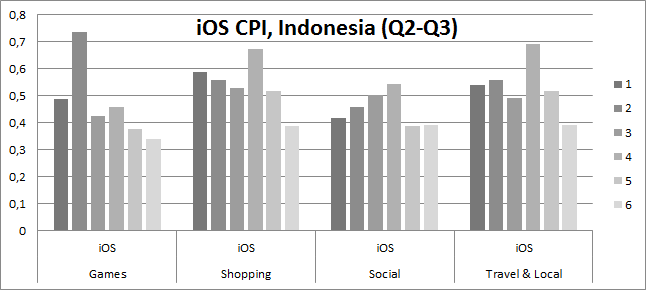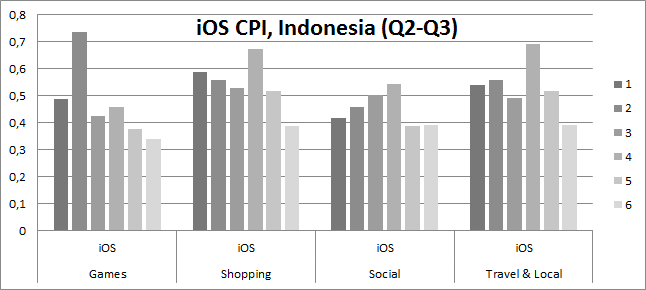 As for iOS, the CPI for all of the categories under review has dropped down in April-September 2016, as well as in Q2 (except Social) and Q3.
Android and iOS comparison for separate categories (Games, Shopping, Social and Travel&Local)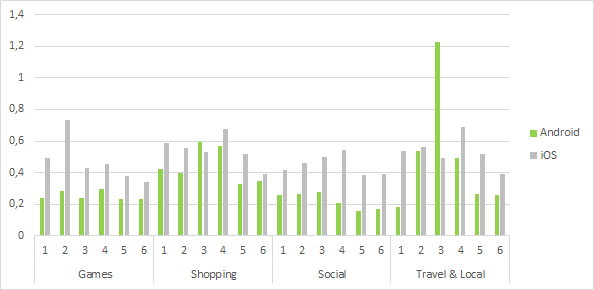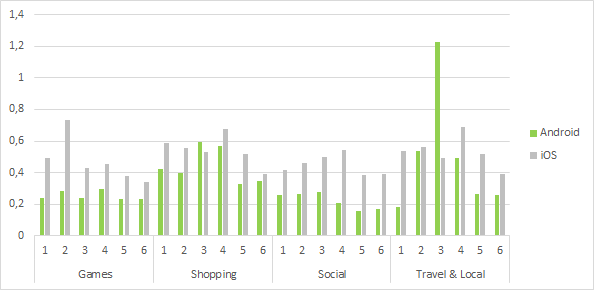 The cost per install for the above mentioned categories was generally higher for iOS, except for Shopping and Travel & Local categories, which witnessed a drop in June.
Games, Social, and Travel & Local metrics have shown a significant difference between the two platforms. Travel & Local category demonstrated a higher cost per install for Android than for iOS, showing the largest gap. In June, Travel & Local has proven to be the most expensive category, with Android CPI reaching $1,2 and beating other categories by more than $0,40.
According to Newzoo report, on the Indonesian games market, mobile games took share of 34% in 2015, and demonstrated 30% of YoY growth rate. Last year Indonesia became the 2nd gaming market in SEA, with an overall revenue of $704.4 million. Mobile games have already made 56.8% of this revenue in April-September, 2016.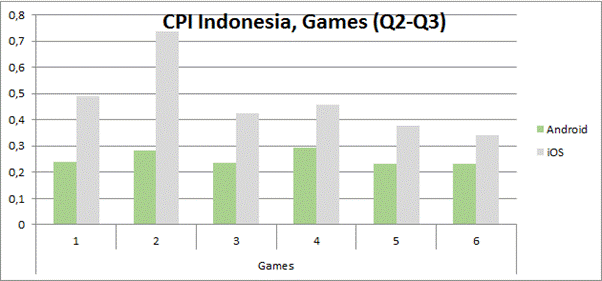 Android CPI for Games varies between $0.2-0.3, while the iOS CPI is generally higher. It starts from $0.33 and increases up to $0.74 in May. Overall, the CPI for iOS Games in May was twice as high compared to that for Android Games.
Key takeaways:
Indonesia can be regarded as one of the most promising mobile markets in SEA region.
Since 2014, the advertisers have been faced with a negative YoY growth rate of marketing spendings in Indonesia.
In June, 2016, advertisers were dealing with the rise of marketing expenses for Android app promotion in Indonesia.
There is a significant difference in cost per install between iOS and Android CPI for specific categories.
iOS offers better monetization opportunities for publishers in Indonesia: the cost per install was generally higher for iOS, exclusive of some categories.
Games is one of the most promising categories in Indonesia due to the growing number of mobile gamers and high YoY growth.
App category and OS are the key factors that affect CPI.
About Clickky
Clickky is a platform that provides smart solutions for mobile monetization and user acquisition. It offers a variety of products that are tailored for the needs of mobile publishers and advertisers, including self-serve platforms, AdExchange (the largest API solution on the market), Smartlink, etc. The company works with clients from all over the world, generating more than 30,000 offers every day.
Clickky's Self-Serve Platform for Advertisers is an all-in-one CPI platform, which incorporates automation tools that will simplify ad campaign launch and management, while  optimizing the daily routine.