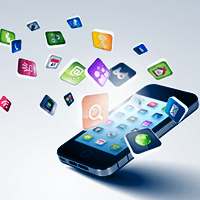 One cannot help but notice the mobile revolution that has taken the world by storm. Most of the world is now hooked on to mobiles and a greater part of online activity on mobiles is not through browsers, but apps.
Welcome to the age of apps – an age where everything from buying groceries to paying bills to finding a plumber is done through apps! Unsurprisingly then, the world is a tough place for app developers who face stiff competition for their apps in the digital market and cannot help but agree on the importance of right marketing to make their app visible amongst the thousands that throng the market.
The success of any app is measured as per the number of downloads or installs which depends on how many people can find your app. Savvy app owners and developers optimally leverage App Store Optimization (ASO) and Search Engine Optimization (SEO) to increase the SERPs for their apps. And to ensure your app's success, we bring to you top 5 strategies that will definitely improve your mobile app rankings across app stores.
Choosing the right app name – Choosing a unique name for your app is not just about branding it right. There is more to a name than one may think. Apps with a keyword in their title rank much higher than other apps without keywords in their title. It is worthwhile to do market research and understand consumer behavior to zero down on most relevant keywords that can be included in the title of the app.
Keyword optimization – One of the most used and most effective strategies, keyword optimization is strategy that just cannot be ignored. App Store and Google Play employ different strategies for keyword optimization and it is important to be well versed to leverage these fully.
Stand out – Stand out from the crowd with a unique icon and an honest yet effective app description. Keep in mind that your app description must be in customer friendly language optimized with keywords here and there but not littered with senseless keywords. In a highly competitive market, it is the app description that can convince users to download an app as first few lines of the description appear in an app's preview along with the app icon that can visually attract users. A well-designed app icon not only works for branding, it helps users associate with an app and identify it in the milieu.
Ratings, feedback and upgrades – User ratings are very important in determining an app's ranking. Apart from positive reviews boosting rankings, the rating count also affects an app's ranking. And in order to ensure high ratings, developers must keep users engaged by encouraging feedback, responding to it and providing regular updates for enhanced user experience.
Customize – Localizing your app listing according to customer preferences can work wonders. Think about regions you'd like to target and localize your app according to customer preferences in these regions. It is possible to make your app more visible in local areas by using translation services to translate your app's description and keywords.
In an over-crowded market, presentation can often be the point of differentiation. Apart from a catchy title and description, throw in some useful screenshots and demo videos to enhance user experience driving more downloads and consequently, higher rankings.