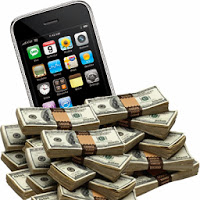 Brands and agencies can no longer only focus on mobile Web, because apps are growing rapidly and in-app advertising offers marketers a better opportunity to target the right audience at the right time. 
It's universally acknowledged that there's a disparity between the amount of time people spend on mobile and the actual ad dollars allocated to this medium.However, this gap will narrow as advertisers are becoming more adept at using mobile to reach their audience.
In-app advertising can provide a better solution to capture targeted consumers' attention and encourage them to interact without
Global Mobile In-App Advertising Rates for The Apps
We can no longer dwell on the question of whether mobile advertising is an important factor driving digital marketing as it is common knowledge now that mobiles have overtaken the world of fixed Internet access completely. With newer apps coming into the market, the stakes are high for app developers as they resort to global mobile advertising for their apps to stay afloat.
What is global mobile in-app advertising?
With almost 84% of the smartphone time spent on apps, the audiences can be subjected to ads and the following will eventually increase. Currently, mobile app companies are spending a fortune on prepare and creating such advertisements for their app and within their apps as well so that word can be spread through the faster mode possible. Social media has reached the app level as well and this is brewing, even more, a competition to get the charts kicking and the online traffic moving.
With a surging increase in in-app engagement, top managements of these companies are taking to their drawing boards and are tapping the resource at lightening speeds before there arrives the very next thing; which cannot be too far away given the rate at which technology is moving ahead.
Rates for these ads within apps
Based on the current rate going underway with regard to global mobile advertising rates for the apps, the BI Intelligence firmly predicts that in the U.S. alone mobile ads expenditure will peak at $42 billion in 2018, which is 43% growth from 2013. In-app mobile ads expenditure across the global is surely going to reach $16.9 billion by 2018, and with this exponential growth coming in from high-end apps, a majority of this expenditure will be gained by social media top-guns including Facebook, Twitter, and Instagram.
These numbers are high-riding the web apps ads and their rates, and, to say the least, this isn't just a regional high-rise but a global phenomenon. Due to the mobile app's extension to location data for their consumers, this piece of knowledge is proving to be a gold mine for advertisers who need to reach to their target audiences and also, understand what drives engagement and push through the different modes of tapping that interest.
According to insights from AppFlood, in-app interstitial ads works better than other formats,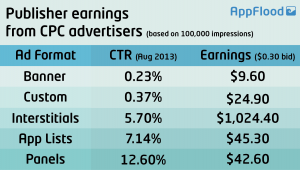 Final Thoughts
In-feed ads are raking in more of the stake in global mobile advertising than banner ads as these in-feed ads are come to be more trusted. They come from a trusted source (read: social networking apps) and they tend to bring in the best relevancy and offer listings than the others. With giants taking over this space, there is a lot of monetizing eating up through app budgets, especially for advertising. This is now an established billion-dollar industry and is here to stay.