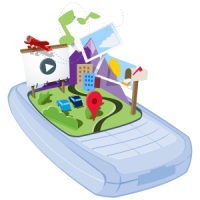 Upgrades and in-app purchases aren't the only ways to earn money from a program that's free to download, of course. Many developers choose to go the old fashioned route and sell space in their apps to advertisers.
According to IDC stat report, mobile in-app ad revenue will surpass PC display ad revenue by 2017. Also IDC numbers cited in the report suggest that the proportion of ad revenue to total app revenue will grow in every major mobile market by that point, with U.S. edging up to around the 60 percent level; Germany, the UK, France, and Brazil growing significantly; and only South Korea and Japan remaining below the 50 percent mark. Amongst all, Indian market will note worthily edge 90%.
Revenue from mobile app-based advertisements is expected to top that of on-screen PC ads by 2017, according to IDC, and should rise in all major mobile markets over the next few years.