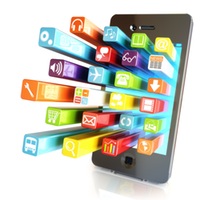 The app economy consists of everybody who makes money and has a job thanks to mobile apps. By 2020, the app economy could double in size to $101 billion, according to market researcher App Annie.
The growth will be driven by increasing usage of apps and by greater smartphone adoption around the globe. The report from App Annie is aimed at giving brands, agencies, investors, and app developers predictive insights into global opportunities for the next five years. One interesting fact: Games generated 85 percent of the app market revenue in 2015, or $34.8 billion globally. That is expected to grow to $41.5 billion in 2016 and $74.6 billion in 2020.
But other categories will grow even faster than games. In contrast to a few years back, when games or media companies dominated apps, app publishers now come from every industry. They hail from banking, retail, airlines, ridesharing services, and government agencies. Supported by venture capital and hedge funds, the app industry is generating a lot of market value and actual revenue.
Overall downloads in app stores are expected to grow 33 percent to 147.3 billion in 2016 and reach 284.3 billion in 2020. Global app store downloads will likely grow from 111.2 billion in 2015 to 284.3 billion in 2020.
Download the link Mobile App Forecast: The Path to $100 Billion to know more