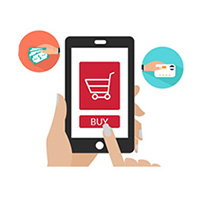 Criteo, a performance marketing technology company, says in its 2016 State of Mobile Commerce Report that the Asia Pacific region has been an mCommerce powerhouse for a few years now, driven by multiple device ownership in developed markets like Hong Kong, Japan, Singapore and Taiwan.
The report provides insight into consumers' shopping habits and predictions for mCommerce across the region. Mobile now accounts for 60 per cent and 54 per cent of all eCommerce transactions in Taiwan and Southeast Asia respectively.
The research shows that brands can no longer ignore mobile platforms as a primary means to drive eCommerce sales.
Report highlights
Key findings of the research include:
In H1 2016, the top retailers in Southeast Asia grew mobile sales by 37 per cent year-over-year to now capture 54 per cent of all eCommerce transactions.
Across all Southeast Asian retailers, the mobile share of eCommerce transactions increased by 19 per cent year-on-year.
Taiwan also emerged as the regional leader, with mobile sales now capturing 60 percent of all eCommerce transactions for top retailers.
Smartphones continue to dominate Asia Pacific's retail mobile transaction share. More than 80 per cent of mobile transactions took place on a smartphone (as compared to tablets) in Japan, Southeast Asia, South Korea and Taiwan, significantly more than the US and UK, where at least 30 per cent of retail mobile transactions take place on tablets.
Indonesia's retail mobile transaction share, with more than 83 per cent of transactions on smartphones (as compared to tablets), is both the highest and fastest growing within Southeast Asia.
In Southeast Asia, majority of mobile commerce transactions are completed on Android devices – more than three times that of Apple devices, despite at least 10 per cent year-on-year growth in transactions on both types of devices. This is a reverse from the global trend, where majority of mCommerce transactions today are completed on Apple devices instead.
Retailers with a sophisticated mobile app presence saw up to 54 per cent of their mobile transactions generated in-app in Q2 2016, an increase from 47 per cent in 2015.
For the first time, mobile apps saw higher order values than desktop and the mobile web, with an average of US$127 spent in-app versus US$100 on desktop and US$91 on mobile web.
Leaders in mobile app maturity drive 90 per cent more conversions than emerging retailers.