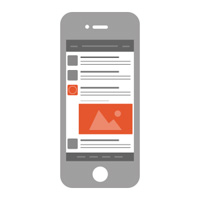 Nearly two-thirds (63.2%) of all mobile display ads will be native by 2020, summoning $53 billion in total advertising spend, according to a new research study.
This type of ad, which borrows the format but not the purpose from the content around it, accounted for 52 percent of mobile ad spending in 2015. To estimate how native ads would grow in the next five years, this report used estimates from a cross-section of brands, publishers, and other parties in digital media.
More importantly, the report shows that native ads have better engagement than display ads. While interruption banner ad marketing isn't dead yet, the native ads on mobile are 20 to 60 percent more effective at drawing clicks, shares, favorites and other positive actions or endorsements. Social network use is part of this growth since networks like Facebook, Instagram and Snapchat have helped push native ads into the daily lives of mobile users.
To know more on the prospects download the link below: