Before you enjoy that cup of coffee each morning, chances are you've already turned to a mobile app to start your day. Whether it's finding your way to a meeting, logging your fitness routine, or even adding the cost of that latte to your weekly budget.
Apps are now an integral part of our daily, but new survey from inMarket offers some insights and a bit of contradictory data to the growing body of information about in-store smartphone usage. The company examined the mobile shopping behaviors of 2,500 US smartphone owners who used their devices in stores.
In the survey, a minuscule 4% of shoppers were using social media in stores. That finding is directly contradicted by a study from Euclid Analytics, which found that Facebook was widely used in-stores.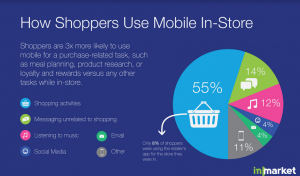 Euclid also found a much higher percentage 83% of its sample (1,500 consumers) used smartphones as part of in-store shopping vs. the 55% in the InMarket research.
Both studies found usage of retailer apps in-stores is a minority use case. However, the inMarket research found a smaller 8% of consumers are using a retailer's app than the Euclid study. The point is that most consumers are not using the retailer's own apps.
The inMarket study operates as something of an argument that retailers should work with third parties with greater distribution — and by implication abandon their own app development efforts.